For Maui Counselors, Teachers & Leaders
NEW ART FOR HEALING BOOK DONATION FOR ALL MAUI COUNSELORS, TEACHERS, LEADERS!
1. This expressive art book, Discover Maui Hawaii, has been vetted and approved by the Hawaii Department of Education. It is appropriate for children, youth and adults as well.
2. Please read this page to understand the flow and purpose of the book, Discover Maui - a creative journey of hope, culture & growth.
3. To request books please email your answers to the questions at the bottom of this page.

A personal note from Christina DiMari
When the fires hit Maui, I rapidly responded to help by creating a new expressive art book focused on Maui, knowing there would be an enormous need for trauma care and social emotional resources after the vast devastation and loss. These books are available free of charge for all counselors, teachers & leaders on Maui coming alongside children and teens. Thanks to the donations of some friends and a grant from the Maui Strong Fund of the Hawaii Community Foundation, we have been able to provide 30,000 Discover Maui expressive art books to youth on Maui. Nearly every public school on the island is using the book for trauma care and social emotional wellness. This also includes many private schools, mental health clinics, mentoring programs and art therapy through many health care facilities. The Council for Native Hawaiian Advancement is also providing these books to the families coming to their Maui resource center.

If you are looking for a way to help Maui we are using all donations and grants designated for Maui to print and donate more books in the days to come. The wonderful team at the Maui Printing Company is printing all the books and delivering them all over the island.

COMING IN 2024!
*The books have been so well received by leaders and students on Maui, Lanai and Molokai, that we have decided to create more book versions for the other island communities in Hawaii for social emotional wellness, personal enrichment and mental health care. (Kauai, Oahu and Hawaii (the Big Island).
A Peek Inside - Discover Maui Hawaii
Mahalo
A special thank you to my new friends on Maui for your valuable contribution in making this book culturally relevant and personally meaningful for your Keiki. Also, a big thank you for the teamwork with the Hawaii and Maui school district leaders to approve this quickly and give it a green light to be distributed and donated to school counselors and teachers. Lastly, thank you to Maui Printing Co. for moving fast to get this printed and distributed to schools on the island.
A Creative Journey
Discover Maui Hawaii
Our expressive art coloring activity books take children and youth on a creative discovery that starts on page one and comes full circle on the last page. The beginning of the book presents the idea that a child's life is like a beautiful tree. As they interact with the reflective questions and express themselves, they cultivate the life of their tree. The coloring pages surround the child with the beauty of nature. From this place, they can learn, discover and grow from a place of peace, openness and curiosity. As they approach the last page, the child shifts from focusing on their own life and begins to realize they have beautiful leaves flowing from their tree that can bring hope, healing and kindness to others. This empowers children and youth to realize they have the ability to make the world a better place, in their own unique and creative way.
NATURE

To discover the beauty of nature and wildlife and how spending time in nature has a powerful way of balancing our natural rhythm and helping us feel calm, clear and regulated.

CREATIVITY

To discover hope, healing and growth in our lives while interacting with the pages of our coloring activity books through creativity, self-expression, writing and coloring.

REFLECTION

To discover how reflecting on a positive question can shift our perspective and help guide our inner transformation while discovering our value and voice.
The Layout
We create high quality educational expressive art coloring activity books to help children and youth discover hope, healing and growth in their lives. Our coloring activity books have 40 interactive pages.
The left side has reflection for personal growth and self-expression.
The right side has a beautiful nature themed coloring page.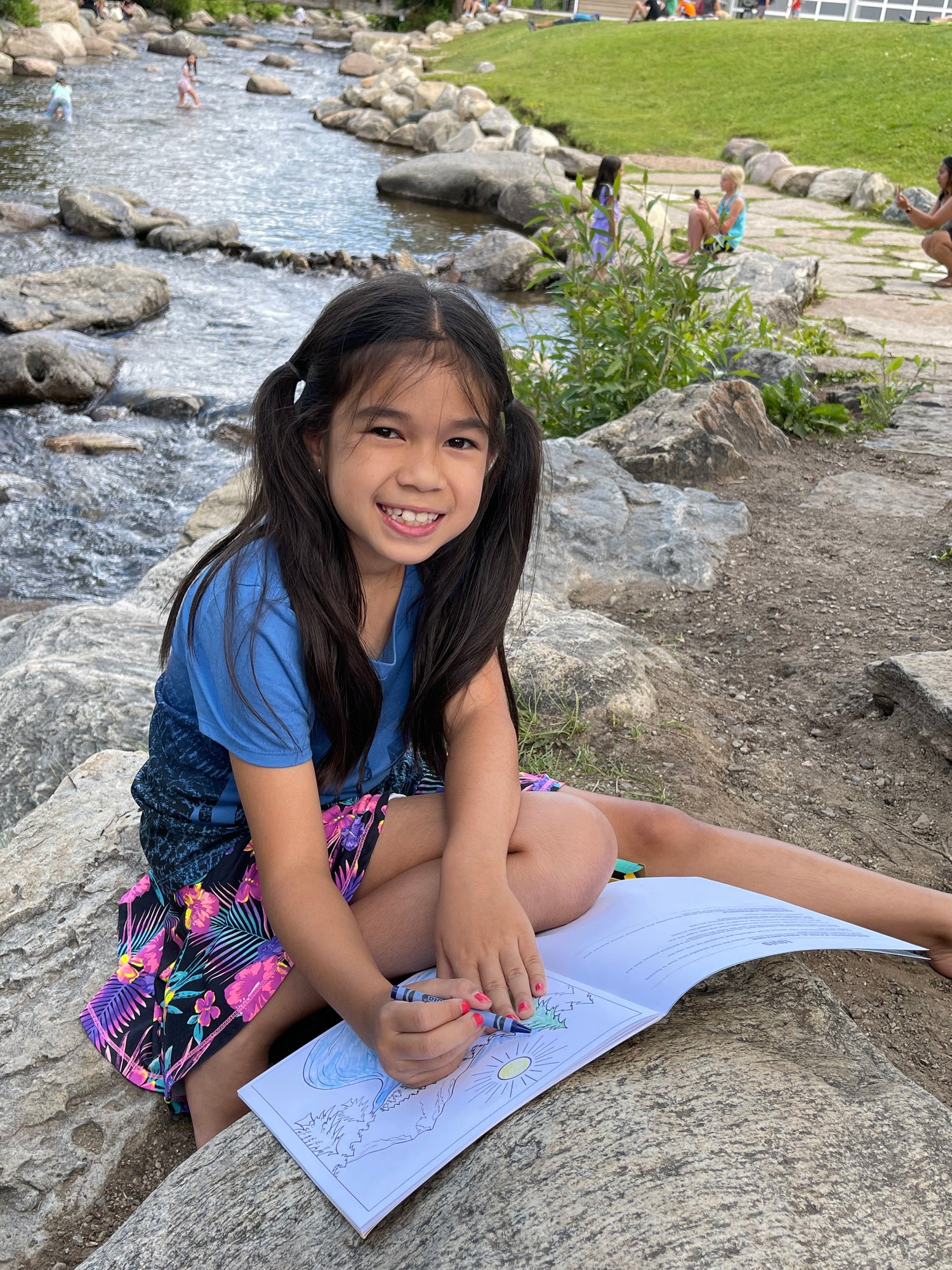 Expressive Art
Our high-quality expressive art coloring activity books help children and youth have a safe way to:
Process their Emotions
Self-Regulate
Foster Courage
Develop Positive Coping Skills
Reduce Anxiety
Express Themselves
Discover Hope
Cultivate Healing
Reflect and Grow
Know their Value
Find their Voice
and ultimately...
Realize how they can make a positive difference in this world.
How our books help
"The Maui Youth and Family Services School-Based Counselors who work in the schools are all invested in the well-being of our Maui keiki and how we can help them with their journey of hope, healing, and growth. Mahalo for creating such a helpful and beautiful counseling tool that we can use with our students for social emotional wellness, trauma care and prosocial skills development. We love the layout of the workbook, the writing prompts, space for self-expression and the amazing artwork for the coloring pages. These books are sure to enrich our program participants' journey of healing. This resource is much needed in our schools, especially at this time! Thank you for your offering."
Heather Long, CSAC 
School-Based Counselor
Baldwin High School - Maui Hawaii

FOR WHAT AGE?

The books are created to meet children and youth where they are.
They are simple enough you can adapt it for elementary age yet deep enough the middle school age and high school teens can go on a deeper journey of personal enrichment and growth.

FOR COUNSELORS

Art, when used as therapy, is part of nonverbal communication for children who may not be able to articulate their emotions and feelings. The coloring opens up a window into their heart and the reflection creates a safe way to start important conversations.

FOR TEACHERS

Teachers often use these books as a "soft start" for the day. There are 20 key reflective themes that make it easy to focus on one theme per week. This is a tool you can also use for personal enrichment and growth that is easy to flow into your overall planning.
How to Request Books
For counselors, teachers and mentors who have a clear plan for how you will use the books for the youth & families you serve, please email us at donations@discoveryartforyouth.org and answer these questions:

1. Your Name

2. Are you a counselor, teacher, mentor, leader or other? Please explain your role in how you would enjoy using these books to help Maui youth or families.

3. The name and full delivery address of your school or organization.

4. How do you envision taking youth or families on the journey through all 20 reflective pages so they can get the most out of this creative journey?

5. How many books are you requesting to make sure all the youth and families in your care receive a book? We want everyone to have their own copy even if they were not directly impacted - they all were impacted in some way.

6. What ages are you requesting books for?

7. Is there anything else you would like to add or share?

Mahalo